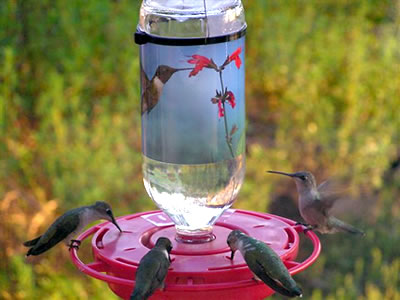 The HummerMagnet feeder disassembles completely for cleaning, like the Best-1 and First Nature feeders, but offers several significant improvements. It has oval ports, so birds of various sizes can feed comfortably without stretching or losing their grip on the perch. The small gap between the perch ring and the bowl should keep any bird from becoming trapped. The syrup level is maintained about 3/4" below the ports, which should be sufficient to deter bees and House Finches. The plastic base is molded from heavy, UV-resistant plastic.
Hummers fight over this feeder, always a good sign. No leaks or other misbehavior from the bottle, which like the base is quite substantial. The bottle is easy to swab out with a foam feeder mop. With its removable cover, the bowl is a snap to clean. An optional base is available to convert the bottle to a seed feeder in winter. Overall, the level of quality is high, and the maker's commitment to hummingbirds is obvious. Recommended.
January 2018 update: This feeder has recently received some incremental improvements. The hang wire is a little sturdier, the port slots are slightly narrower to deter smaller bees, and every feeder now includes a bottle cap for mixing the syrup by shaking, using the sugar level printed on the bottle graphic. A good feeder just got a bit better.
The Hummingbird Store
512-264-4282