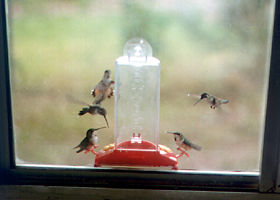 Photo © Russel Aceto
This model is essentially half of the Perky-Pet 210-P: its red plastic base and clear plastic reservoir are half-round, flattened on the side that lies against the window. It hangs reliably from a silicone suction cup. The dripless base has two small, flat, yellow plastic "flowers" defining the feeding ports. Red replacement flowers are available from the manufacturer. The only assembly required is a single screw to attach the optional (but included) perches, which are rather fragile. I've had several reports of this feeder falling off the window and shattering, although I had no such problems myself. I recommend cleaning the glass first, until it squeaks, then licking the suction cup before pressing it onto the window. Two plastic prongs suspend the base from the reservoir, and there are reports of them breaking in normal handling.
Due to their notorious territoriality, this feeder's two-port configuration is unlikely to be a limitation if you host Ruby-throats. (The photo above was taken in Arizona, and the birds are probably Broad-tailed.)
This feeder's plastic base does not disassemble for cleaning, but unlike the 210-P, its simpler shape does not present too much of a problem; I must note that my 217 was on the shady shade of my house, so mold was less likely to grow between regular cleanings. After three years of frequent scaldings and monthly bleach soaks, the plastic base held up well, although the plastic reservoir bacame slightly dulled. I discouraged ants by smearing castor oil around the suction cup and on the two other points where the feeder touched the window.
I no longer recommend products from Perky-Pet, due to their recalcitrant position on powdered mixes containing red dye.
Woodstream Corp.
69 North Locust Street
Lititz, PA 17543
www.birdfeeders.com