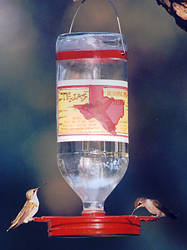 The Tejas feeder is made by Marion and Harriet Lewis of Rio Frio, Texas. What immediately struck me about this feeder was its decided lack of the typical mass-produced/untouched-by-human-hands impression imparted by most plastic feeders. The Tejas obviously is built by humans, and many will find its winsome "handcrafted" look uniquely appealing. The Tejas has been produced for over 30 years in the Texas Hill Country.
The reservoir is a rather heavy glass bottle; the "Tejas" model pictured above holds 32 ounces, and may users report filling theirs twice a day (I'm green with envy!). The base is metal, lacquered inside and a polyester powder coat finish outside, with a thick wire perch ring and eight feeding ports. The hanging arrangement is also all-metal, and quite sturdy. There's not a scrap of plastic anywhere. The Lewises also offer a smaller, 16-ounce/four-port "Frio" model for folks with fewer birds, and the 48-ounce "Humm-ongous" for those with even more.
Improvements have been made over time, and the current model's base is aluminum, with a screw-off lid for easy cleaning.
According to Tejas users, this feeder does not drip, and the syrup level is apparently low enough to discourage bees. Reports also indicate that this is a very durable feeder. For some owners, their only problem has been bear damage (!).
Available in 16-oz."Frio," and 32-oz. "Tejas," versions, from:
Marion and Harriet Lewis
Tejas Hummingbird Feeders
413 E. Huisache Ave.
San Antonio, TX 78212
(210)735-1696